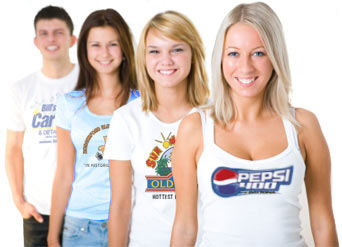 SERVICES / FAQ 
If you already have art, send us an e-mail with it attached, we will look it over and tell you how much a job will be for us to print them on whites, lights or darks. We can print on a wide range of garments from standard tees, sweatshirts, shorts, pants, fitted apparel, bags and fabric accessories using any of our methods below. 
Screen Printing is industry standard for durability and quality. We can screen print a design up to 12.5" wide by 18" long, that would pretty much cover a whole shirt. The minimum quantity for screen printing is 10 pieces.
---
Frequently Asked Question 
What methods do you use to print apparel?
All our methods are printed in-house, so we cut out the middleman. Our foundation is silkscreen printing, which is the industry standard and most durable and quality type of printing. 
What are the terms for payment?
We require at least a 50% deposit before production begins and full payment prior to shipping your order. Payment can be made with company check, personal check, cashier's check, money order, and PayPal. There is a 2-day processing time for checks. There is a $30 dollar charge for checks returned. 
What is the turnaround time?
The turnaround time varies depending on the items you selected for your order, but the average time for an order is between 5-7 business days. 
We do offer RUSH service for a moderate fee. We will quote you a turnaround time once you place an order. We do not include shipping and transit times and the times are not 100% guaranteed. 
How do I give you my artwork?
We prefer vector art files such as .ai, .eps, .psd, .pdf. If you don't have a vector file, you can try to submit any high resolution image type with at least 300DPI (what is a 300 DPI piece of artwork). Don't worry, we won't print the shirt if the file is bad quality, we will notify you and you can let our art department clean-up the artwork for a moderate charge. Before production, we will always send you a proof of how your art will look on the garment. 
Can you design it?
Yes, we have an experienced graphics department that will take care of your needs. Just specify your needs and shoot me an e-mail (once you've contacted me I can send you my email address) There is a $30 dollar per hour artwork fee. We will give you one hour FREE if you place an order of 100 pieces or more. 
I'm looking for a specific item:
We have contracts with a lot of garment suppliers, if you need something specific just shoot us an e-mail and we will get back to you. We are very confident that we can supply any type of garment you will need.
How do I arrange to pick-up my order?
Arrangements can be made through the phone or email (once you've contacted me I can send you my email address). Just notify your sales agent that you will be picking up the order and we'll make sure its at our shop waiting for you.